Lauréate du Prix Jacques de Vienne (Gr.1) in 2020, l'AQPS Hollee (Fuissé) ajouté un deuxième Groupe à son palmarès en triomphant dans le Prix Haras de Thoury (Prix de l'Union des AQPS du Centre-Est) (Gr.3). Favorite de l'épreuve, the jument of Véronique Devaux et de Sylvain Dehez a longtemps patienté sous la selle de Sébastien Maillot. She found the overture at 300 meters du but and fourni a three final bel effort pour come prendre l'avantage à Hermine des Obeaux (No Risk at All). Battue de trois quarts de longueur, cette dernière advanced to a remarkable Incognito Collonges (Vision d'État), which concluded troisième pour ses débuts en plat… après trois sorties infructueuses sur les haies ! Hollee avait elle aussi couru en haies à multiple reprises après sa victoire de Gr.1, mais elle n'était pas parvenue à s'imposer dans cette discipline. Cette elève de la familia Trinquet est une fille de Fuissé (Green Tune), who made the mount in Ireland at Roveagh Lodge Stud. This issue of the maternal family of Fox Pro (Coastal Path), lauréat du Prix Durtain (L) à Compiègne et troisième du Prix Mélanos (L). Photo APRH.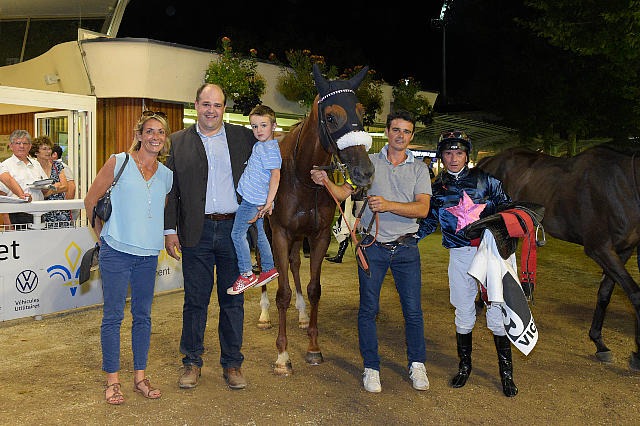 Place
Cheval
Entourage
01
HOLLEE
Père : FUISSE : Roveagh Lodge Stud – €2,000 (2022)
Mère : NOISETE
Owner : Devaux Veronique
Elevator(s) : Earl Trinquet – Trinquet Olivier – Trinquet Marc
Entraineur : Dehez(s)
Jockey : Jersey Sebastien
02
HERMINE DES OBEAUX
Père : NO RISK AT ALL – Haras de Montaigu – €12,000 (2022)
Mère : ARDEUR DES OBEAUX
Owner : Devilder Nicolas
Elevator(s) : Devilder Nicolas – Les Obeaux D'Anjou
Entrainer: Devilder Nicolas
Jockey: Cabre Jerome
03
INCONITO COLLONGES
Vente d'Automne – Arqana 2020: Racheté €14,000
Père : VISION D'ETAT
Mère : MISS COLLONGES
Owner : Haras Du Ma
Elevator(s) : Delorme Freres
Entraineur: Merienne(s)
Jockey: Barille Yoann
04
IDEFIX FOREZ
Père : FREE PORT LUX – Haras de Cercy – €2,500 (2022)
Mère : QUASSIOPEE
Owner : Pitart Delphine
Actor(s) : Coyne Marie-Caroline – Coyne lPaul
Entrainer: Pitart Mathieu
Jockey: Velon Marie
05
IKERO BLUE
Vente d'Automne – Arqana 2020 : Sold €25,000
Père : GREAT PRETENDER – Haras de la Hetraie – €8,000 (2022)
Mère : VIBRAYE
Owner : Ecurie Du Haras D'Erable
Actor(s) : Rainer Jessica – Jereczek Francois – Rainer Jeremy
Entrainer: Quinton(s)
Jockey: Roussel Alexandre
06
IDEAL OF L'AIR
Père : FLY WITH ME
Mère : QUEEN DE L'AIR
Owner : Chateau Favray
Elevator(s) : Chateau Favray – Bedu Jean-Francois
Entraineur : Leenders(s)
Jockey: Bachelot Theo
07
ISEA DU BREM
Père : WALDPARK – Haras de Cercy – €2,200 (2022)
Mère : SCHTROUNPFETTE
Owner : Couetil Jean-Luc
Eleveur(s) : Couetil Jean-Luc – Couetil Jean-Luc
Entraineur : Couetil(s)
Jockey: Grosbois Christopher
08
HOPE KLASS
Père : LAURO : Coolagown Stud – o/a (2022)
Mère : LEATHOU
Owner : Alain Combemorel
Elevator(s) : Nicco Beatrice
Entrainer: Pitart Mathieu
Jockey: Nicco Axelle
09
HYWELL
Chevaux à l'entraînement – Arqana 2021: Racheté €78,000
Père : HONOLULU – Haras des Beaux – €1,900 (2022)
Mère : TURZINEL
Owner : Ecurie Des Mottes
Elevator(s) : Le Gloannec Patrick
Trainer : Jouin Julien
Jockey: Guillochon Julien
10
HEROS OF THE COUR
Père : FALCO : Elusive Bloodstock – o/a (2022)
Mère : REVEUSE DE LA COUR
Owner : Briens Jean-Charles
Elevator(s) : Delepine Jacky – Delepine Marie-Paule
Entrainer: Fouassier Adrien
Jockey: Androuin Mathieu
.